Dry Release
Product Info
What is Dry Release?
A powdered releasing agent specially formulated to provide superior bond-breaking characteristics when stamping concrete or decorative surfaces. Xcel Dry Release also provides a unique, variegated, antique look.
What does Dry Release do?
When broadcast on top of wet concrete or decorative overlayments, Dry Release creates a unique variegated, antique look while helping you to produce clean distinct patterns by reducing the suction effect that occurs while stamping on wet surfaces; always use an Xcel Surfaces clear sealer to preserve the antique effect produced by Dry Release. When used with Xcel Root Beer Release, distinctive designs are attainable through the unique antiquing effects the Dry Release provides. The combination of the two releases allows you to stamp quickly and cleanly while producing beautiful, artistic finishes.
Easy to use
Directly broadcast Dry Release to the surface being stamped or add directly to Xcel Surfaces Root Beer Release. After stamping is complete, lightly wash surface when it is hard enough to prevent marring; let dry. Apply an Xcel Surfaces sealer of choice to preserve antiquing.
Coverage*
Dry application: Approximately 1 lb. per 35-40 square feet
Wet application: Approximately 4-5 oz. per gallon of Root Beer Release
*May vary depending on surface texture and porosity
FOR PROFESSIONAL USE ONLY
For more information, refer to the Xcel Surfaces Installation Manual or call 800.644.9131

MSDS Data
Available Colors
Dry Release Standard Colors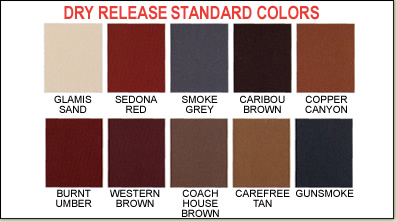 Contact Xcel Surfaces – 1(800) 644-9131
3750 W. Indian School Rd.
Phoenix, AZ 85019
Contact On-line
Use these color samples as a general guide only. The color effects produced may differ significantly from those shown on the color chart. A representative test section should be prepared for each individual concrete surface prior to general application. For optimum performance, apply a clear top coat using an Xcel Surfaces clear sealer.

Back to category