Dry Colour
Product Info
What is Dry Colour?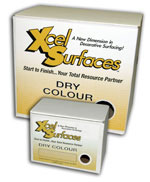 Dry Colour is a cost effective, powdered pigment used to integrally color Xcel Surfaces decorative overlayment systems. Dry Colour can also be used in concrete, mortars, grouts, stucco, pre-cast, and many other cement-based products.
What does Dry Colour do?
Dry Colour affords the applicator or architect the versatility to design attractive, aesthetically pleasing colors, as well as provide solutions for many design challenges. Additionally, custom colors allow the applicator, architect, or builder the opportunity to express individuality and style on each project.
Easy to use
Directly add Dry Colour to any cement-based mix and blend thoroughly to achieve unique colors and designs.
Coverage*
Add the amount of Dry Colour necessary to achieve desired tints and hues.
*Do not exceed more than 10% of cement content or ¼ per bag when using with Xcel Surfaces overlayments.
FOR PROFESSIONAL USE ONLY
For more information, refer to the Xcel Surfaces Installation Manual or call 800.644.9131
Technical Data
MSDS Data
Available Colors
Dry Colour Standard Colors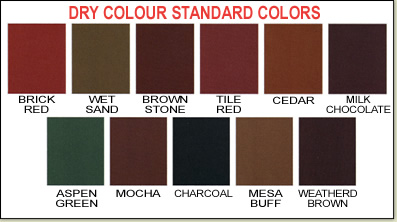 Contact Xcel Surfaces – 1(800) 644-9131
3750 W. Indian School Rd.
Phoenix, AZ 85019
Contact On-line
Use these color samples as a general guide only. The color effects produced may differ significantly from those shown on the color chart. A representative test section should be prepared for each individual concrete surface prior to general application. For optimum performance, apply a clear top coat using an Xcel Surfaces clear sealer.