Xcel Surfaces Frequently Asked Questions (FAQ)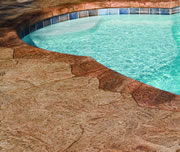 Welcome to the Xcel Surfaces FAQ.  We hope you can find the answers to all you need here, if not feel free to contact us.  You can also browse through our product lines and look at our glossary for even more in depth information.
What Does Xcel Surfaces Do?
Xcel Surfaces brings quality craftsmanship and classic beauty to every installation with its extraordinary decorative cementitious coating. Xcel Surfaces provides custom reproductions of natural stones, pavers, and tiles. Xcel Surfaces offers a proven 100% acrylic polymer-modified overlay system that is easy to apply, dries fast, and requires no heavy equipment for application.
Why Choose Xcel Surfaces?
Xcel Surfaces provides the total package needed to transform pool decks, patios, driveways, walkways, counter tops, garage floors and more. Our wide array of decorative surfacing products provides the ultimate solution for your renovation or new construction. Using experienced in-house technicians and independent testing laboratories, Xcel developed their own exclusive line of premium product formulas and blends to meet all your needs. Our certified training programs are approved by APSP (Association of Pool and Spa Professionals) and include equipment and application techniques. These programs provide expanded product knowledge and application methods to both novice and experienced applicators alike. As a full service company, Xcel is much more than just a supplier. Xcel Surfaces is a total resource partner dedicated to growing your business!
What Are the Advantages of Xcel Surfaces?
Xcel Surfaces is a 100% acrylic surface applied to a solid concrete base. It is stronger and lasts longer than plain concrete or old-style concrete surfacing. Xcel Surfaces can give you the classic look of tile, brick, lace or stone without the expense or the upkeep and is available in several different colors. Xcel Surfaces requires no heavy equipment for installation and is quickly applied by certified craftsman. Xcel Surfaces is highly-resistant to most stains and mildew. Xcel Surfaces can be applied over a wide variety of surface areas ranging from interior, exterior, and residential, to commercial. The possibilities are endless with Xcel Surfaces products.
How Much Does Xcel Surfaces Cost?
Xcel Surfaces is quite affordable, especially when you consider the benefits of our products versus plain concrete, an old-style concrete surfacing, or natural stones and pavers. Contact us so we can recommend a preferred applicator to meet your needs.
Do Xcel Surfaces Products Need To Be Installed By a Licensed Professional Or Can Anyone Install Them?
Xcel Surfaces products are intended to be applied by a qualified, trained applicator or licensed contractor due to safety requirements and application techniques. Contact us so we can recommend a preferred applicator to meet your needs.
How Long Does Xcel Surfaces Products Last?
Xcel Surfaces is 100% acrylic polymer-modified cement and is extremely durable. Depending on factors such as traffic, personal care of the product, application, texture, weather, etc., some maintenance may be required to keep the product looking new.
How Long Before I Can Walk On The Surface After The Finished Product Is Applied?
The finished Xcel Surfaces product should be given 48 hours to dry before walking on it. Objects should not be placed on surface for 5-7 days after finished product application is completed.
Is Xcel Surfaces Decking Cool or Hot?
The temperature of a deck surface is related to sun and the surface itself. As the sun heats the deck, the heat is absorbed by the decking material. Darker pigments absorb more heat and lighter pigments reflect more heat. Therefore, the darker decking surfaces become hotter. In addition, the smoother the deck surface, the hotter it feels on your foot. If you have a lace pattern, only about 40% of your foot is in contact with the surface, giving the impression that the deck is cooler than it actually is. On smooth surfacing patterns such as flagstone, where there is full contact with your feet, you are exposed to the full effect of the heat.Understanding the effects of pigment and surface texture helps explain why your deck can seem so hot, even though it is much cooler than a comparable plain concrete surface.
Why Become An Xcel Surfaces Recommended Applicator?
Xcel Surfaces Recommended Applicator Program was started to help raise the bar on customer satisfaction and strengthen brand loyalty among applicators. There are several benefits to becoming a Preferred Applicator including referrals for new leads, co-op advertising, website recognition, product specials and much more. For more information or to apply online today please visit the Why Xcel section of our website or contact us to answer any further questions on the Recommended Applicator Program.